The seventh Korea-Africa Economic Cooperation (KOAFEC) Ministerial Conference took place on 13 September in the Korean city of Busan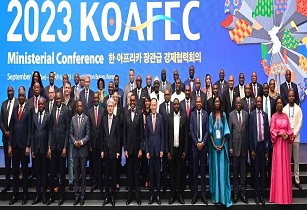 Ministers and leaders gathered in Busan for the seventh KOAFEC Ministerial Conference. (Image source: AfDB)
The objective of the conference was to provide additional resources to help African countries achieve universal access to energy and transform the continent into the breadbasket of the world. Moreover, the conference took place at a time when Africa is facing a plethora of challenges. This is why Korea and African nations, under the aegis of KOAFEC, have agreed to deepen their cooperation with much more emphasis on mutually beneficial investment.
Co-hosted by the African Development Bank (AfDB) along with the Ministry of Economy and Finance of the Republic of Korea, the three-day conference which took place under the theme 'Embracing a Sustainable Future: Just Energy Transition and Agricultural Transformation in Africa,' embraced these two critical development priorities for Africa.
AfDB Group president Akinwumi Adesina described the KOAFEC conference as a good opportunity to discuss progress on relations between Korea and Africa, development challenges and opportunities in Africa, and a chance for all parties to continue to work together to accelerate the growth and development of Africa.
"Africa must be a solution to feeding the world, as it has 65% of the uncultivated arable land left in the world," he told delegates, adding, "What Africa does with agriculture will therefore determine the future of food in the world."
Adesina also commended the Korean government for its K-Rice Belt initiative, which will support eight African countries in producing 30 million tons of rice. Moreover, the initiative aligns with the AfDB's Feed Africa strategy and the outcome of the Dakar 2 Food Summit early this year. The Bank is intent on Africa achieving food self-sufficiency within five years.
"Africa's future is bright. And it will be brighter still with a strong partnership with South Korea. Let us accelerate Africa's growth and development together. Let us succeed together," concluded the AfDB chief.