The fourth edition of VIV Africa, sub-Saharan Africa's leading trade show for agriculture, dairy and poultry professionals is scheduled to take place from 2-3 October 2024 at the prestigious Kigali Convention Centre (KCC) in Rwanda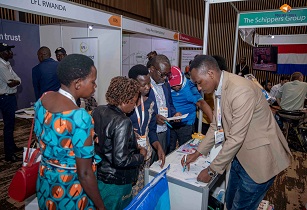 Poultry Africa is now transitioning to VIV Africa in 2024, covering the entire spectrum of animal protein production. (Image source: VIV Africa)
Building on the success of the previous editions, Poultry Africa is now transitioning to VIV Africa in 2024, as it now offers a comprehensive showcase that covers the entire spectrum of animal protein production. More than 130 exhibitors are anticipated at the show, demonstrating cutting-edge technologies and services. VIV Africa 2024 also introduces two new sectors: agriculture and dairy, with the Horti Agri Next (HAN) Pavilion and the Dairy Pavilion respectively, bringing together an even more diverse range of industry players.
The main objective of VIV Africa 2024 is to develop of a robust business platform that creates value for both visitors and exhibitors. This is naturally complemented by a knowledge-sharing content programme that encompasses the core sectors of poultry, agriculture, and dairy, throwing a spotlight on technical best practices, market outlooks, and pertinent themes such as water management. Furthermore, break-out sessions will ensure that every sector receives dedicated attention, providing attendees with valuable insights and knowledge.
Preceding the main expo, VIV Africa 2024 on 1 October, will feature the Leadership Conference, gathering thought leaders, industry and knowledge experts, to engage in insightful discussions and explore the latest trends, challenges, and opportunities in the agriculture, dairy, and poultry sectors.
For more information and to register, visit: https://www.vivafrica.nl/