The output in the agriculture and fishing (+12.9% y-o-y) sector in Angola continues to record blockbuster growth and has surpassed pre-pandemic levels, according to the National Statistics Institute's (INE) latest GDP figures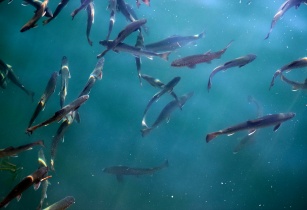 Fishing, in particular, grew by 35.6% y-o-y in Q4 2021. (Image source: Adobe Stock)
Fishing, in particular, grew by 35.6% y-o-y in Q4 2021, which the INE attributes to improved catches. Many other countries in Africa are putting in efforts to boots the aquaculture sector. Mavis Hawa Koomson, Minister of fisheries and aquaculture, has called on members of Organisation of African, Caribbean and Pacific States (OACPS) to collaborate to develop aquaculture industry of member states.
According to Atlantic Federation of African Press Agencies, she observed that though aquaculture was considered as the best alternative to reducing overdependence of countries on marine fishery resources, the sector had not been able to bridge demand gap due to inadequate infrastructure, low technical capacity, high cost and weak enforcement of regulatory measures.
"Managing the ocean and its resources, especially the fisheries resources need collaborative efforts by all member states," the minister stressed.
She was speaking at the opening of a preliminary session of the seventh meeting of Ministers of fisheries and aquaculture of the OACPS that will take place from 7-8 April under the theme, "OACPS Blue Economy Agenda 2030 – Catalysing the Sustainable Fisheries and Aquaculture Development for the Future."
Discussions focused on policy action on selected global ocean governance and multinational issues relating to preserving maritime zones in the face of climate related sea-level rise and the strengthening of ocean-based actions for building resilience and sustainability.
Other areas are combating Illegal, unreported and unregulated fishing in members states, sustaining fisheries and aquaculture value chain.
Despite the drought in the south-western provinces causing severe hunger for more than 1.3 million people, agriculture and livestock posted an expansion of 3.0% y-o-y, which the stats agency accredits to government policies to boost agricultural output.
Moreover, value added in the trade (+2.5% y-o-y) industry was bolstered by this robust growth in agriculture as well as a moderate improvement in manufacturing output. Construction (+8.5% y-o-y) also grew robustly, but this reflects base effects, as the level of construction activity remains well below pre-pandemic levels.