Fish farmers in Luwero district have said that the high costs of buying feeds have affected the sizes of fish harvested and revenue from their production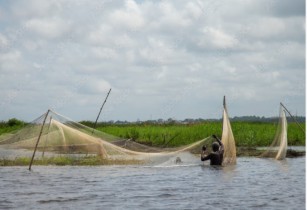 According to the Luwero district fisheries office, Luwero generates 20 tonnes of fish every year. (Image source: Adobe Stock)
A fish farmer at Nkonge village in Katikamu sub county, while speaking to The Independent, claimed he has 2,500 fish stock in his fish ponds but is challenged to produce fish above 500 grams due to the high costs of feed. Most fish produced in the district is between 400-500 grams, which attracts less income.
According to the Luwero district fisheries office, Luwero generates 20 tonnes of fish every year from 350 farmers spread in the sub-counties of Nyimbwa, Katikamu, Zirobwe, Luwero and Butuntumula sub-county, among others.
Robert Wakulyaka, the manager of Nkonge Integrated fish farm said that they are currently looking after 20,000 fish stock and need four tons of feeds worth a little over US$143,755, before harvesting them.
Wakulyaka said that small-scale farmers have resorted to feeding the fish on local plants but these won't help them in harvesting fish in better sizes. He appealed to the government to decrease taxes on fish feeds, so that farmers can afford them, thereby helping the sector to grow.
According to Fisheries and Aquaculture division at Food and Agriculture Organisation, Uganda produces 15,000 tonnes of fish aquaculture including production from small-scale, commercial fish farmers and stocked water reservoirs as well as minor lakes.
There are an estimated 20,000 ponds throughout the country.