Nigeria's fish production has reached more than three million mt per annum enabling the country to meet the local fish demand and generate surplus for export, according to Nigeria's minister of agriculture and rural development, Dr Akinwumi Adesina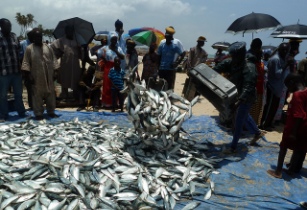 Nigeria's fish production is expected to generate surplus for export. (Image source: Breakers Fish Company)
Adesina stated that Nigeria's fisheries sector is a platform to promote exportation and bring in foreign investment.
The minister stated that the government is ready to target a wider market in the fisheries sector of the Nigerian economy to achieve self-sufficiency.
"Government is not leaving any stone unturned in its determination to promote strategies for safeguarding the sustainable fish stocks through integrated fisheries management," stated the minister, who was represented by the regional director, South West, Ministry of Agriculture and Rural Development, Quadiri Olalekan.
"To further push the sector, government will also promote trade through established best global practices in fisheries management," added Olalekan.
Olalekan praised Grande Cereals Limited Jos, a subsidiary of UAC of Nigeria PLC for the role it is playing in improving Nigeria's agribusiness sector.
The minister said that he believed that the endorsement will create competition from other fish feed producers and suppliers.