The Nigerian Ministry of Agriculture has announced that it is supporting 18,580 fishermen and 14,800 fish farmers across the country through its Growth Enhancement Support (GES) scheme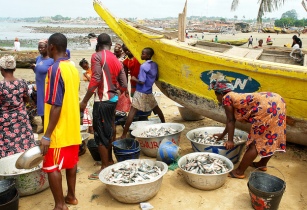 The Ministry noted that a total of 400 fish farmers in Nigerian states got free catfish juvenile at 50 per cent subsidy. (Image source: deutsche welle/Flickr)
The Ministry said that it has provided the fish farmers with free catfish juvenile, feeds, nets, ropes, floats, boats and sinkers.
James Aniyom, commissioner for agriculture in Nigeria, said, "The main focus of the Ministry through the GES scheme is to provide assistance to farmers in order to enhance their productivity and create wealth across the agricultural value chain."
The GES scheme is a flagship programme of the federal government, through which farm inputs are distributed to the farmers at a subsidised rate. The scheme also includes access to farm machineries, loan facilities, insurance and extension services.
A spokesperson from the Ministry noted that the federal fovernment gave 1,080 boats and 1,080 free insulated boxes, which were distributed to fish farmers across Nigeria at 50 per cent subsidy.
The Ministry report put the total cost of government support to fishermen and fish farmers in 2014 at about US$10,652.4 and US$17,310 respectively.
It added that 17,500 fishermen in Adamawa, Anambra, Bayelsa, Benue, Delta, Edo, Imo, Jigawa, Kebbi, Kogi, Kwara, Niger, Plateau, and Taraba were benefitted in 2013. These states got a total of 5,575 bundles of nets, 11,150 bundles of ropes, 5,575 of floats and 11,150 of sinkers.