The Norwegian Agency for Development Cooperation (NORAD) will provide US$5mn to increase the incomes and build resilience of small aquaculture farmers in Kenya, Mozambique and Tanzania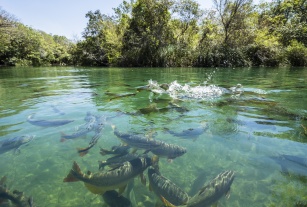 Sustainable development of the aquaculture sector holds significant potential to address malnutrition. (Image source: Adobe Stock)
The contribution from NORAD will finance the Advancing Resilient and Nutrition-sensitive Smallholder Aquaculture (ARNSA) Project implemented by the International Fund for Agricultural Development (IFAD) and its government partners.
With the aim to support approximately 3,000 smallholders and make increased quantity and quality fish products available to at least 100,000 people, the project will guide and scale-up climate resilient and nutrition-focused aquaculture technologies and approaches.
It will, specifically, improve access to quality and affordable farm inputs such as seeds and feed, as well as market opportunities, especially for women and youth through innovation and value creation. It will also strengthen farmers' technical skills and extension services and address post-harvest losses.
While speaking to Food Business Africa, Gilbert F Houngbo, president of IFAD said, "This contribution from Norway emphasises its credentials as a global leader in sustainable fisheries management. Sustainable development of the aquaculture sector holds significant potential to address malnutrition and poverty worldwide. Norway's support will help thousands of small aquaculture farmers build better lives for their families and produce the healthy foods their communities need."
The project will focus mainly on inland aquaculture, except in Tanzania, where seaweed value chains will be given attention to.
The support from NORAD contributes to IFAD's increasing importance to aquaculture in sub-Saharan Africa, which now includes related investments in Tanzania, Kenya, Mozambique, Angola, Eritrea, Ethiopia, Nigeria and Ghana.
Today, small-scale aquaculture farmers provide more than 80% of the global acquaculture production. With a growing demand for fish products, in particular from Africa and Asia, the sector holds a strong potential for growth, better incomes for the producers and employment opportunities, especially for women.