Through a mobile app, known as the electronic Catch Assessment Survey (e-CAS), lake management officials, researchers and policymakers, among others, can freely access fisheries-related information to make informed decisions around their management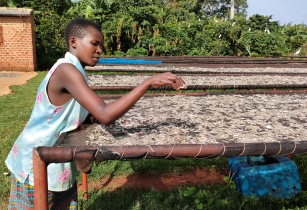 In Uganda, over 670 stakeholders of the fish value chain are accessing comprehensive fisheries data from Lakes Albert and Victoria, in real-time. (Image source: NutriFish Project)
Trained data collectors consult with fishers to update the easy-to-use app with data such as fish catch quantity, type of fishing nets and boats used, and how much money the fishers expect to earn. With the potential to accommodate an unlimited number of data sets including on fisheries surveys, aquaculture, socio-economics and marketing, the system is an invaluable resource for the sustainable development of fisheries for wealth creation, employment and food security.
"Before the app, we used papers to ask questions to the fishers. It was a tiresome job because it took a lot of time and could take weeks before an official agent would collect the files," says Ocakacon Muhammed, a trained data collector based at Lake Albert. Peter Enyou, another enumerator at Kikondo landing site on Lake Victoria, explains that the previous system often led to data inaccuracies. With this improved data, lake management can now make more informed decisions for enforcing fishing regulations.
"Since the system was set up, over 12,000 data records have been documented and consolidated in one place," explains Patrick Bwire, systems administrator at the National Fisheries Resources Research Institute (NaFIRRI). Bwire goes on to say that it would normally take two days to physically carry out and look at the census of the boats and the fish landed to make an estimate of the fish stocks. Furthermore, according to him, the previous manual approach cost the government about US$106,340 annually. e-CAS however, has brought the cost down to around US$21,270.
NaFIRRI and the Directorate of Fisheries Resources are now planning to scale up and roll out e-CAS across all Ugandan lakes. With the technology already in place in Tanzania and Uganda as part of the LVFO partnership, it will be easier for other countries, such as the Democratic Republic of Congo – which shares Lake Albert with Uganda – to invest in the same technology.