Danida scientists answer the question 'Why isn't there more quality African beef on the market?'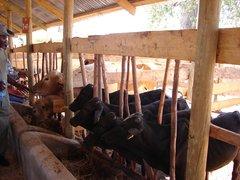 Photo: Jørgen Madsen
There are plenty of cattle in Africa, but not enough quality beef on the market; a project financed by Danida, in which scientists from the Faculty of Agricultural Sciences at Aarhus University are participating, aims to help solve this problem to the benefit of African farmers.
According to results from a project supported by Danida, it is realistic to produce tender and juicy beef using local cattle breeds and locally produced feed for the home market in East Africa.


The cows are present. The grass and other feedstuffs are present. The farmers and consumers are present. So why not take advantage of the possibilities to produce good quality beef in East Africa, writes Janne Hansen?
This is a question that Danish scientists, in close collaboration with scientists from universities in Tanzania and Uganda as well as local farmers and slaughterhouses, intend to answer.
"Our role in the project is to offer our expertise in nutrition and feedstuff evaluation. In addition, we supervise PhD students from Africa who, as part of the project, come to the Faculty of Agricultural Sciences to work for a few months," said senior scientist Martin Riis Weisbjerg from the Department of Animal Health and Bioscience at the Faculty of Agricultural Sciences.
In the first part of the project, which ran from 2006 to 2009, the scientists made a survey of the situation and investigated which barriers there might be for local production and sale of good quality beef instead of importing beef.
Tourism
There are several indicators that demand for meat is on the rise in East Africa - not least for good quality beef. One of the reasons at the present is the great number of safari guests.
In 2006 almost 2.5 mill. tourists came to Kenya and Tanzania and this number is expected to double by 2012. Development of the mining industry in Tanzania is another reason for the increasing demand for good quality beef in the short run.
In the long run, the rising standard of living combined with an increasing population and a significant migration from rural to urban areas, where supermarket development is booming, will also lead to an increased demand for good quality meat.
In the first part of the project the scientists found that pastoralists, such as Maasais, are willing to sell their cattle for meat production, and that there is sufficient locally produced feed for fattening the cattle under more intensive conditions.
The scientists also found that the local breeds Boran and Tanzanian Shorthorn Zebu are well suited for producing tender meat if the cattle are fattened before slaughtering. With regard to the production aspect, there is a good basis for developing an efficient local beef production.
There are, however, various challenges that must first be overcome. One of them is that it is more expensive to produce meat under intensive conditions compared to extensive grazing, since grazing on commonul land is often considered as being free.
Willing market
This means that there must be a market that is willing to pay for good quality beef.
Another – and perhaps greater – challenge is marketing the beef in competition with imported meat.
This problem must be solved before farmers in East Africa can take advantage of producing tender and juicy beef.
The second part of the project, which runs from 2010 to 2013, will address this problem and will also continue to carry out research in the fattening of the cattle prior to slaughter.
The project is led by scientists from the University of Copenhagen in collaboration with scientists from the Faculty of Agricultural Sciences at Aarhus University, Sokoine Agricultural University in Tanzania, Makerere University in Uganda, and a slaughterhouse and a farm in Tanzania.