The Innovation Prize for Africa (IPA) 2015 has been awarded to Moroccan researcher Adnane Remmal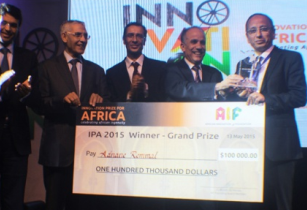 According to Remmal, his formula helps prevent sickness in livestock while avoiding the over-use of antibiotics. (Image source: APO)
Remmal won the US$100,000 grand prize at the event, hosted by the African Innovation Foundation (AIF) in Skhirat, Morocco this week, for his antibiotic alternative for livestock farmers.
The patented all-natural anti-microbial formula reduces health hazards in livestock and prevents the transmission of multi-resistant bacteria and carcinogens to humans through consumption of milk, eggs and meat.
"My innovation provides farmers with solutions to improve their production," said Remmal. "It is cost effective and can be easily adopted, giving farmers increased benefits without the side effects of antibiotics."
Kenya's Alex Mwaura Muriu and South African, Lesley Erica Scott, won US$25,000 each, claiming second prize and a special prize for social impact, respectively.
Murui developed the Farm Capital Africa project, which helps farmers to access funding to invest in their businesses without having to resort to seeking bank loans, while Scott developed a World Health Organization (WHO)-approved calibration method for tuberculosis diagnostic machines.
The IPA 2015 awards ceremony was attended by more than 400 people, including ministers, dignitaries, AIF partners, entrepreneurs and previous IPA winners.