Rwanda has inaugurated its first commercial plant for insect-based animal feed, along with the new standards that will regulate and facilitate the growth of the sector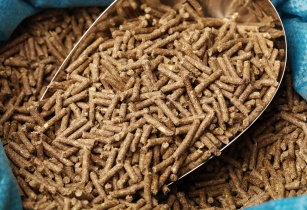 Insect-based animal feed can help in addressing the lack of access to high quality and affordable commercial feed. (Image source: Adobe Stock)
Dr Solange Uwituze, deputy director general of Rwanda Agricultural and Animal Resources Development Board (RAB), on behalf of the Board's minister, solemnised the event.
Insect-based animal feed can help in addressing the lack of access to high quality and affordable commercial feed, which currently handicaps the performance and growth of the livestock sector in Rwanda. A good example is the black soldier fly (BSF) which can convert low-quality organic waste streams into valuable body mass containing high levels of quality protein and fat, serving as a substitute for fishmeal and soybean.
In addition, frass, i.e. the leftover product from growing insects, is an organic fertiliser that contains a nutrient-dense blend of nitrogen, phosphorous and potassium (N-P-K) and minerals.
Rwanda was able to realise this dream with patronage from the UK Aid funded Improving Market Systems for Agriculture in Rwanda (IMSAR-Noza Izoko) programme, implemented by Palladium in partnership with Swisscontact.
IMSAR aims to contribute to the commercialisation of agriculture by improving the way agricultural market systems function, making them more competitive and inclusive for smallholder farmers.
Along with the International Centre of Insect Physiology and Ecology (icipe), IMSAR provides technical assistance to selected agribusinesses for improving their capacity to farm and process BSF.
Anna Wilson, Development Director at British High Commission in Kigali, noted that the IMSAR programme was instrumental in supporting the implementation of PSTA4, Rwanda's fourth Strategic Plan for the Transformation of Agriculture.
"The use of insects as a source of protein in animal feed has been tested and is now used in several countries. It is therefore great to see such innovation coming to Rwanda and we are happy to have helped pioneer companies as Safe for Health and Maggot Farm to gain the technical know-how and invest in production facilities," she said.