Livestock is the only management tool available to stop the increasing desertification associated with climate change, according to a grazing management pioneer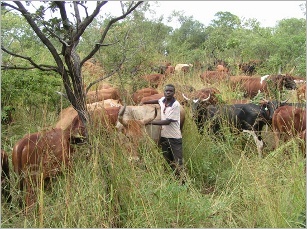 Livestock is the only management tool available to stop the increasing desertification associated with climate change, according to a grazing management pioneer
Allan Savory of the Savory Institute and Africa Centre for Holistic Management (ACHM)said even though his assessment was unpopular and contradicted conventionally accepted scientific knowledge, history showed human management of livestock was at fault.
Savory said deserts were advancing faster as agricultural practices produced more eroding-soil than food, with conservative estimates at around four tonnes of eroding soil per human every year.
"It's not a case of adapting to climate change, we need to address it," he said.
Resting wasterland
Savory's ideas started forming during his time as a game ranger, when he noticed the African savannah could support extremely large herds of herbivores year after year without degradation. By contrast, land destocked according to accepted optimum grazing management practice and allowed to return to wilderness was becoming increasingly desertified.

The prevailing academic view was that resting rangeland was the best practice but Savory concluded that areas of occasional heavy impact grazing that mimicked natural grazing patterns actually improved vegetation growth.