A new strategy to be rolled out by the Namibian government is set to address the critical market shortage of livestock producers in the northern communal areas (NCAs)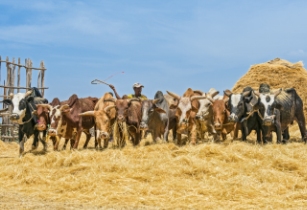 The end of October last year saw a market loss for some producers north of the veterinary cordon fence. (Image source: Nick Fox)
The subcommittee recently appointed will provide feedback to the AHCF meeting in Windhoek, after the first round of discussions that took place last week. The subcommittee has the backing of the Meat Board to provide assistance to NCA producers who have found themselves without markets since April last year.
The general manager of the Meat Board, Paul Strydom, stated that the subcommittee will focus its efforts on looking at the export of chilled and or frozen beef from the area north of the veterinary cordon fence.
"The cessation of Meatco operations at the government-owned export abattoirs of Eloolo, Oshakati and Ngwezi, Katima Mulilo which was notified to the MAWF (Ministry of Agriculture, Water and Forestry) at the end of October 2015, resulted in a market loss for certain producers north of the VCF (veterinary cordon fence)," said Strydom.
"Further, the recent foot-and-mouth disease outbreak which was announced last month limits the market availability."