Dr Dietmar Holm of the University of Pretoria has advised Namibian farmers to invest in the management and selection of heifers in order to benefit the herd in future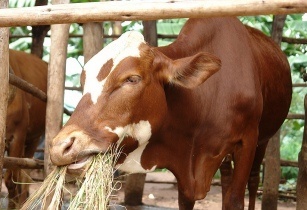 Namibian farmers have been urged to invest in the selection of the best heifers for production. (Image source: ILRI EADD)
Dr Holm gave a talk at the second Meat Production School, organised by the Namibian Stock Breeders Association, where he discussed how increased management for fertility works in a beef production system.
According to Holm, importance should be placed of in structured breeding, vaccination, health and nutrition to enable heifers to perform up to their genetic potential.
"It is important that the heifer development plan should be based on scientific evidence, and of particular importance is nutrition during critical times of reproductive development. A stable system with only minimal changes from year to year is also important consideration to ensure that a herd of cattle is developed over time that performs optimally within the system," Holm said.
"Investments in the efforts of selection of the best heifers include selection based on the performance of the dam, functional conformation for adaptability in the particular environment, but most importantly selection based on reproductive ability. Producers should take care in the selection process to prevent accidental selection for unwanted traits by selecting for genetically correlated traits," Holm added.