A cattle buying scheme, introduced for Zimbabwe farmers, will help them purchase the animals through monthly instalments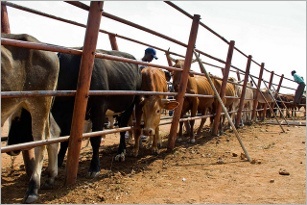 The cattle buying scheme is directed at boosting livestock production. (Image source: Swathi Sridharan/Flickr)
Under the plan, farmers will have to shell out a minimum of US$35 per month for a period of five years, for 10 cattle heads. The scheme has been designed by Cattle Ownership Trust and will be directed at boosting livestock production.
With the majority of farmers failing to access adequate funds to boost their herds, it is hoped the scheme will prove beneficial.
"The plan was introduced after we realised that some farmers had no access to funds to buy cattle at once," said Cattle Ownership Trust official Rutendo Moyo.
"A flexible payment plan, under this scheme, will help farmers buy cattle over a certain period and also concentrate on other farm activities that may require money," she added.
Moyo said the cattle would be housed in the trust's farms across provinces.
"We will keep the cattle on behalf of the farmer and these can only be taken after three years into the programme," Moyo said.
"Every yearly contribution made by a farmer would have earned him two cattle, which translates to six or more, depending on payment plan, after three years."
The scheme will allow farmers to visit the ranches where the cattle would be kept.
"Since we have ranches in every province, farmers are free to choose the area where they want to keep their cattle," noted Moyo.