Nigeria's digital agricultural platform Farmcrowdy has acquired Best Foods (L&P) Limited to provide wider livestock production and processing solutions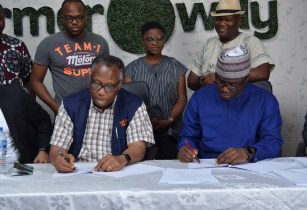 The acquisition supports Farmcrowdy's strategy to lead the market. (Image source: Farmcrowdy)
With this acquisition, Farmcrowdy will keep growing its meat value chain with improved livestock production and processing to meet international standards.
Farmcrowdy is expected to become the preferred source of processed meat across Nigeria starting with Lagos. The company will serve more than 50 meat markets across southwestern Nigeria, managing more than 100 consumer endpoints.
According to Onyeka Akumah, founder and CEO of Farmcrowdy, the AgTech platform is set to enter the meat retail market with the launch of Farmcrowdy Meat Hubs in the Q2 2020 to provide access to quality meat via technology, produced and traded by Farmcrowdy.
"Best Foods offers an exciting opportunity for Farmcrowdy to enhance its service in livestock production, processing and supply," explained Kenneth Obiajulu, managing director of Farmcrowdy.
"The acquisition supports Farmcrowdy's strategy to lead the market and meet necessary requirements to increase our supply of 45 cattle daily for consumption."
Emmanuel Ijewere, founder of Best Foods welcomed the deal. Ijewere will be joining Farmcrowdy as a member of the advisory board.