The government of Osun State in Nigeria has set up a 10,000 capacity cattle ranch to improve the state's self reliance in beef production and target high demand for cattle from Lagos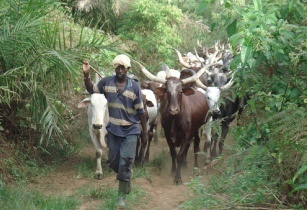 The Lagos State currently consumes 6,000 cattle daily and the government has intervened to bring cattle from the South-West of Nigeria to the marked. (Image source: nick_cordell)
The cattle ranch, which measures 78.4 ha, will attempt to enhance beef production through the Osun Beef Production programme.
According to state governor Alhaji Rauf Aregbesola, the ranch will target the high demand for cattle in Lagos and other Yoruba states, at a time when animal rearing and production has became a vital economic programme for the government.
"As a government we must be able to produce the food we eat. To me, a government cannot be said to be good if it is incapable of feeding its own people," Aregbesola explained.
"This is why we promised to focus on animal rearing and food production, which are paramount to our development."
Lagos State currently consumes 6,000 cattle daily out of which none is purchased from ranches in the southwest of the country.
"In Lagos alone, 6,000 cows are slaughtered daily and no state in South-West produces a single one. All these animals come from the North," Aregbesola added.
"We intend to target just 10 per cent of the Lagos market. This will certainly boost the economy as well as agro-based industry of our state."
The governor also revealed ranches larger in capacity would operate in the state of Osun towns Ede and Ejibo.