Swine experts from Lallemand along with global experts gathered at the Pig Research Summit – THINK Piglet Health & Nutrition 2023 which took place from 21-22 September in Copenhagen, Denmark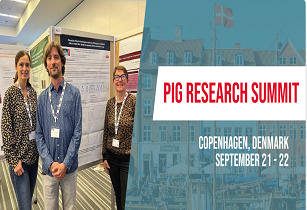 Good feed hygiene is crucial in liquid feed systems since it helps in increasing milk production in sows. (Image source: Lallamand)
The team presented new data on the lactic acid bacteria Pediococcus acidilactici CNCM I-4622, with the aim of monitoring its acidification and hygiene-enhancing properties in pig liquid feed. Good feed hygiene is crucial in liquid feed systems since it helps in increasing milk production in sows. This is a result of improved feed utilisation which leaves more energy available for milk production.
Following 10 hours of incubation at 30°C, the feeds containing P. acidilactici CNCM I-4622 were better and faster acidified than the control feed. Feed pH also remained significantly lower for up to 24 hours. At the same time, the concentration of L-lactic acid in the feed was significantly higher with the lactic acid bacteria.
P. acidilactici CNCM I-4622 acidification properties helped reduce the development of total coliforms, which indicated better feed hygiene. This came as a result of enhanced lactic acid production. Consequently, due to a potential improvement in feed efficiency, P. acidilactici CNCM I-4622 could be considered as a tool to increase milk production of sows in liquid feed production systems.
For more information, visit: https://www.lallemandanimalnutrition.com/en/europe