Boehringer Ingelheim, a leader in animal health, has announced that the FreVAX intramuscular needle free device can now be managed via an entirely new version of the FreVAX smartphone app – the 2.0 version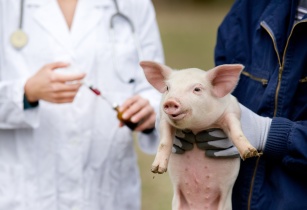 Boehringer Ingelheim's new FreVAX smartphone application takes piglet vaccination to another level. (Image source: Adobe stock)
This new version of the FreVAX app unlocks new features and possibilities:
• Easy management of vaccination events including date, location, pig group and age, dose, vaccines used, and caregiver associated with actual vaccination sessions compliance
• Advanced device usage interface with self-diagnostics and multiple languages settings
• Improved support with access to online helpdesk, FAQs and return process if needed
• Export of consistent vaccination reports with high data quality
FreVAX intramuscular needle free device has been available since December 2020 to swine producers globally. The FreVAX app 2.0 can now be downloaded for free from app store and google play.
Dr Markus Hammer, global head of swine at Boehringer Ingelheim Animal Health, said, "There is no doubt about increasing interest in needle free devices due to the added benefits regarding pig safety and welfare leading to improved meat quality. At the same time veterinarians and progressive swine producers are looking for convenient and reliable tools in the farm with a big focus on the vaccination process. "
"We now have an offering that incorporates an accurate, safe, needle free intramuscular administration method with the new FreVAX app 2.0 to provide improved vaccination compliance and data management," added Marius Leyhausen, senior global brand manager, Integrated Health Management at Boehringer Ingelheim Animal Health.