Johann Kotzé, CEO of the South African Pork Producers' Organisation, said with profit margins under pressure, many smaller pig farmers will leave the industry, while bigger farmers will consolidate and become more efficient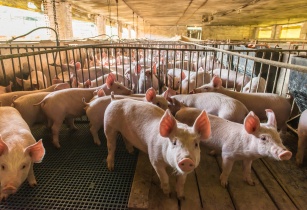 Farmers have built massive new units that are set to come into production soon. (Image source: Adobe Stock)
"Overall, we predict an exceptional year of innovation, because farmers are under immense pressure to produce affordable food while facing enormous rises in input costs. Feed prices are extremely high, and farm-gate prices haven't increased proportionately," Kotzé said, while speaking to Farmer's Weekly.
Pierre Vercueil, a pig farmer in North West and former president of Agri SA said, "Our producer prices are at the same level as three years ago. Right now, I think prices will move sideways," he added.
Vercueil said the impact of the new COVID-19 Omicron variant would also be the determining factor in the 2022 production year.
"If this variant leads to higher lockdown levels, it'll have a negative impact on consumers' ability to spend, and that in turn will reduce farmers' profitability."
Kotzé added that South African pork producers were resourceful and would strive to become more efficient.
"Across the country, farmers have built massive new units that are set to come into production soon. Some of the best genetics in the world will be used at these state-of-the-art facilities, which will lead to greater efficiency."
The industry had also suffered from the impact of African swine fever in 2021. However, Kotzé said he believed that because the disease had plagued the industry year after year, pork producers were mentally and emotionally capable of fighting it once again in 2022.
"People who do remain in the industry will have to stay positive. Our farmers have an unwavering belief in the future, that God will help them, and that the rain will fall," he said.