The Tanzanian poultry sector is the latest in Africa to get a financial support from the United States, after a visit from the chairman of the United States Grains Council at the end of last year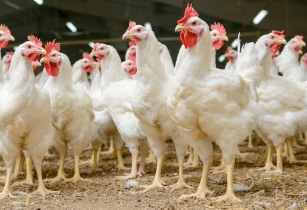 Poultry imports in Ghana have been slashed by by 30 per cent. (Image source: Bukhanovskyy)
Poultry producers across Africa are looking for cost-effective ways of cutting their feed-stock prices, with experts and other consultants working in partnership with farmers in Tanzania.
"What we're doing is really grass-roots kind of stuff here. We've set up a feed-testing lab and helped develop a poultry growers association," said Alan Tiemann who visited the country under a poultry project being undertaken in partnership with the United States Grains Council.
Ghana's deputy food and agriculture minister Dr Hanna Abissiw stated this month that the government made a decision to reduce poultry imports into the country, this was to support to local producers to grow capacity through improved access to markets.
"What we have done is to cut the importation by 30 per cent. Every study shows that importation has gone down drastically and not many people are bringing in chicken these days. People are bringing in more of pig feet or cow legs," added Abissiw.