Aviagen South Africa completed its first Grandparent (GP) export to their exclusive Ross distributor, Ross Breeders Zambia, early in 2021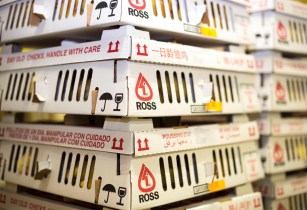 The logistics and the local Aviagen South Africa teams provided a solution to assure food security for the people of Zambia, through the local export operation. (Image source: Aviagen)
The chicks were transported to Ross Breeder Zambia via OR Tambo airport and were collected by Ross Breeder Zambia's own aeroplane, and flown to Lusaka airport. Since the supply base was local, the chicks were transported to the breeder farm via truck, which resulted in reduced logistical times.
Due to AI in Europe and the COVID-19 restrictions preventing Ross Breeders Zambia from using the usual export routes, the logistics and the local Aviagen South Africa teams provided a solution to assure food security for the people of Zambia, through the local export operation.
Andrew Clarkson, general manager, Ross Breeders Zambia, expressed his thanks to the Aviagen team for their assistance in making this shipment a success; "We recently received our Grandparent shipment from Aviagen's Great Grandparent (GGP) operation in South Africa. We were very pleased with the high level of professionalism shown by Aviagen South Africa, and it was a pleasure interacting with their staff during this smooth process. As this was their first export of day old chicks, I feel they are well equipped and prepared for any future exports. Thank you once again for making it possible to keep to our placement programmes even during these difficult times."
"The shipment to Ross Breeders Zambia was a great milestone for Aviagen South Africa, being the first ever chick export from South Africa. It was a great opportunity to learn and prove to ourselves what is possible when we work together. We look forward to being able to do more exports from our South African base in the future," commented Len du Toit, senior operations manager, Aviagen South Africa.