HatchTech, a global provider of incubation technology, and Pas Reform, a global supplier of integrated hatchery solutions, have entered into a long-term global strategic patent agreement covering post-hatch early feeding for day-old chicks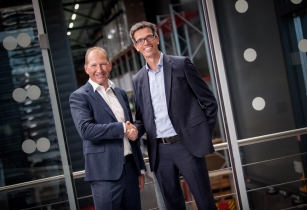 The agreement gives companies the freedom to further develop and market their post-hatch feeding solutions. (Image source: HatchTech)
Significant academic research has been undertaken worldwide into the digestion and feed absorption processes of young chicks and the role of post-hatch feeding.
Building on the outcome of these studies, the HatchTech R&D team initiated research and testing around early feeding, becoming a patent holder for early-feeding solutions for day-old chicks.
Based on this know-how and its commitment to finding innovations beyond the tried and tested, HatchTech launched HatchCare in 2014. The hatcher provides newly hatched chicks with the basic necessities of life – feed, freshwater, light and fresh air – right from birth.
In 2018, Pas Reform launched SmartStart, a post-hatch feeding solution which provides newly hatched chicks with nutrition and hydration in a single formulation. SmartStart aims to help customers to implement post-hatch feeding easily and flexibly. It comprises two major elements – which can be applied individually or together: precision feeding and intelligent lighting.
Tjitze Meter, founder and CEO of HatchTech, said, "We firmly believe that early feeding can be a major driver of animal-friendly and antibiotic-free poultry production and this patent licence agreement will help the poultry industry going forward."
Harm Langen, CEO of Pas Reform, noted, "It underlines the importance of early feeding for the production of robust day-old chicks and promotes the worldwide growth potential of this innovative concept."
"The agreement gives companies the freedom to further develop and market their post-hatch feeding solutions," Langen added.