Contaminated drinking water directly impacts animal health, welfare and performance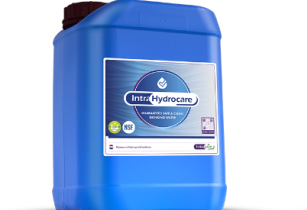 Intra Hydrocare is the only hydrogen peroxide-based biocide certified and safe for use in drinking water while animals are present in the poultry house. (Image source: Intracare BV)
Adding medicines, vaccines and nutritional supplements to the drinking water creates a biofilm resulting in organic pollution of drinking water. Biofilm is the breeding ground for pathogenic microorganisms. There are many pathogens that are transmitted via the drinking water system, such as Escherichia coli, Salmonella, Avian Influenza virus, African Swine Fever virus. Once such a pathogen is present in the drinking water system, it can quickly infect the whole population, as the pathogens are directly consumed.
Removing the biofilm already removes 99% of all microorganisms, and the remaining pathogens will not stand a chance against Intra Hydrocare, which is effectively till the last nipple due to its strong stabilised character. This way, it is possible to prevent the drinking water system from acting as a transmission route for pathogens and infecting pigs and poultry.
Intra Hydrocare is the only hydrogen peroxide-based biocide certified and safe for use in drinking water while animals are present in the poultry house, at a dosage up to 250 ml per 1,000 litres of water.
The six reasons to choose Intra Hydrocare include:
Ultra stabilised hydrogen peroxide
Slow release effect that removes biofilm till the end of the pipeline
Eliminates bacteria, viruses, yeasts and fungi, even when they hide in the biofilm
To be used during empty and operational barns
Extensive registrations worldwide (including ECHA)
Fully biodegradable and safe for humans, animals, materials and the environment
For more information, visit: https://www.intracare.nl/