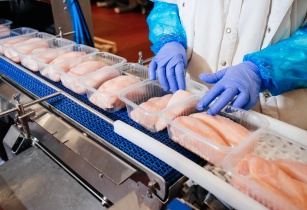 Marel, a manufacturer of food processing equipment f for meat, poultry and fish processing industries, has unveiled its quality assurance equipment, called the IRIS FI
---
According to Marel, IRIS FI is a quality assurance tool installed after the trimming station, that enables real-time checking of trimmed chicken fillets and whether individual fillets meet the quality requirements of the processor.
IRIS FI can be combined with Innova PDS and a fillet distribution system, allowing to filter out the products that don't meet the criteria.
The camera and the software cooperate in assigning a certain quality to the fillets and this quality information can be used for decision-making for downstream distribution. In practice, this could be Marel's Fillet Distributor solution, including the intelligent servo-operated conveyor belts which redirect products of different qualities to different processing streams. An upper belt could lead to a RoboBatcher or another tray packing process, while a lower belt could lead to a marination, shwarma-strip or schnitzel processing line.
Processors can choose their own IRIS FI settings to select poultry fillets of the best possible quality. Marel says it is easy to make the ideal recipe for the allowed tolerance threshold of individual bruises, total bruise area, fat defects and total fat area. Deviant fillet shapes can also be taken into account. Among the fat defects, residual skin that is not removed by a skinner can also detected.
Detection settings of IRIS FI can be adjusted precisely, from very strict to more tolerant and the area limits can be set for blood and fat independently. The Innova PDS software is able to register and sort out the fillets with defects that cover a larger surface than the delimited area, be it an individual defect or the total of defects.