Meyn, the global manufacturer and distributor of equipment and systems for poultry processing industry, has launched Vent Cutter 240 for minimum yield loss with an exact drilling position and simple adjustment for varying bird weights and sizes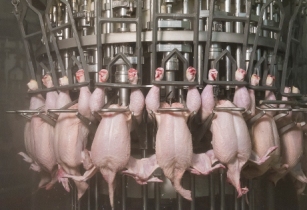 Meyn aims to make the maintenance easier for customers by using quick release principles and interchangeable parts. (Image source: Meyn)
Meyn said that the device is designed to operate at high speeds- up to 13,500 bph- without compromising on accuracy or yield.
The machine ensures consistently low contamination using a patented, non-rotating bushing technique that protects the knife from cutting into the intestines during vent extraction. Also, the optimal positioning of the bird against the vent knife before and during drilling allows optimal cut independent of bird weight. Precise and reliable cutting capacity is 8,000 to 13,500 bph on a six inch pitch.
Poultry processors benefit from minimum yield loss with an exact drilling position and simple adjustment for varying bird weights and sizes. After each cycle, the drill unit is cleaned from the inside of the unit, ensuring a clean centering cone before each processing unit starts.
The company aims to make maintenance easier for customers through quick release principles and interchangeable parts. Meyn is also providing an optimal vent knife programme for using different sizes of vent knifes depending on the weight range and bird type. A wide range of weight can be processed in one machine settings.
The Vent Cutter has met the latest requirements of CE regulations. Safety is optimised by implementing the new ECP 1.1 concept.