Namibian veteran poultry farmer, Eric Campbell, has launched a micro-project for the production of chickens and eggs in Omama, a small settlement located in the Rehoboth Rural Consitutency in the Hardap region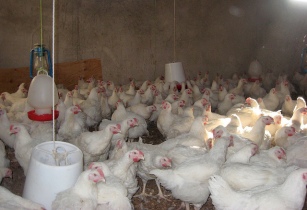 Namibian poultry farmer Eric Campbell sells chickens to the Omama community at N$15 each.
Campbell initially started the project at his home with only 200 Australian Astrocompass layers, until the project expanded and Campbell decided to reduce dependence on imported layers by producing his own chickens. The poultry farmer designed a makeshift incubator from an old refrigerator to induce the eggs to hatch quicker.
"After their production lifespan, we sell the chickens to the community at N$15 each to recoup costs."
According to Campbell, one of the biggest problems with chicken farming is the supply of layers which are often imported from South Africa at a high price.
"The availability of chickens is a problem because we mostly have to get them from South Africa and very often they are not enough to meet the demand. We need decent incubators for fertilizers. Why always go to South Africa for simple things like layers, when we can make our own incubators and rear our own chickens," he said.