Anitox Corporation has appointed New Concept Nutrition to distribute its range of products in Algeria, Morocco and Tunisia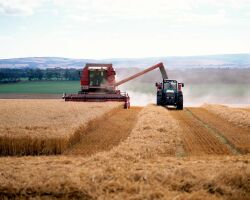 The agreement will increase distribution across North Africa. (Image source: Anitox)
New Concept Nutrition, a consulting and feed additives company based in Meknes, Morocco, was formed in March 2011 as a joint venture between Dr Ait Boulahsen, a consultant in the feed and poultry industries, and AgroVet Alliance, a Dubai-based distributor with more than 10 years' experience in these sectors.
The agreement will further enhance Anitox's ability to distribute its range of feed safety and milling efficiency solutions in North Africa, while providing New Concept Nutrition's customers in the region with access to Anitox products, technologies, technical expertise and engineering support, Anitox said.
Roger Mann, regional director of Anitox in Europe, the Middle East, Africa and Asia Pacific, stated, "We are delighted to be working with New Concept Nutrition and regard this as a very mutually beneficial partnership between the two companies.
"Our products now help customers all over the world to meet their legal and consumer requirements, as well as reducing production costs and improving operational operating efficiency."
Anitox has reportedly experienced a 16 per cent rise in demand for its products and services during 2012. The Maxi-Mil milling efficiency programme and the Termin-8 pathogen control system are now used in 61 countries to treat over 34mn tonnes of feed or feed materials annually, it claimed.
"Anitox products and services have excellent potential in Algeria, Morocco and Tunisia, where increasing food safety legislation makes it essential for livestock producers to operate to higher standards, while rising raw material costs require feed mills to operate more efficiently in order to supply quality finished feed at affordable, sustainable prices," Ait Boulahsen added.
The company has a strong research and development programme and a pipeline of new products, which will further increase its business in existing markets and take it into new areas, helping livestock producers, feed manufacturers and food producers to meet future demands and challenges, Anitox concluded.