More than 215,000 chickens from poultry farms in Nigeria's Federal Capital Territory (FCT) and Kogi state are said to have died as a result of being struck by a disease, according to poultry farmers in the country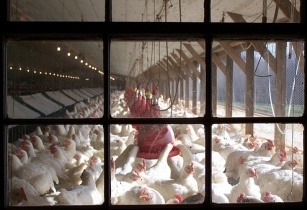 80 per cent of the infected chickens taken to a laboratory tested as Avian Locus positive. (Image source: Elizabeth Prata)
The virus, which causing the birds to bleed through the nose, the legs and through the chest, was reported to have killed chickens daily as efforts by veterinary doctors to keep them alive failed.
Alhaji Musa Adaye, a customer at the Yammfy Farms Nigeria Limited farm, owned by Oba Muftau Gbadamosi, said of the 72,000 layers they bought less than 6,000 birds are still remaining.
Production manager of Sanfam Poultry, Umar Abdulsalam, said all the 60,000 day old chicks they purchased from the farm became weak and died of the same disease.
"Ours will start bleeding through the nose then through the legs. They will become weak and tired," said Abdulsalam.
"They could not even stand on their feet. When you lift them up, you also see blood coming from their chest. That means they will not last three hours. A veterinary doctor said it was blood anemia."
The director of livestock in Kwara State Ministry of Agriculture and Natural Resources, Simon Opowoye, said the state government is providing poultry farmers technical support and regular training to put a stop to the spread of diseases.
"We are also trying to control the environment of the feed mills in this state because we realised that the feed mills usually are major source of infection. If you go to most of the feed mills here, they make their feed on the floor where people walk up and down," said Opowoye.