Bulent Tanyildizi, international commercial manager, MEA discussed why the Ross 308 is the broiler of choice in this continuously growing and dynamic region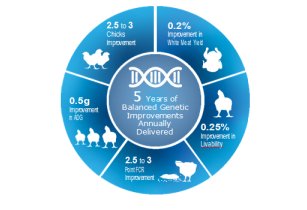 Customers choose Ross because it meets the requirements they are looking for in a bird, specifically in FCR and yield. (Image source: Aviagen)
The Ross 308 satisfies the demands of customers who require a bird that performs consistently well and has the versatility, robustness and cardiovascular strength to meet a broad range of end-product requirements and environments. The Ross 308 is the leading broiler worldwide, with its unparalleled and renowned performance in both open and closed-housing environments. "Our customers across the SSA region choose Ross because it meets the requirements they are looking for in a bird, specifically in FCR and yield, which in turn maximises their profit and provides the customer with the best return on their investment," said Bulent Tanyildizi.
The Ross 308 also has advantages in both breeder and broiler performance. For example, the Ross 308 breeder is performing exceptionally well, steady gains in hatching egg (HE) output, and hatchability have delivered on average an additional 15-20 chicks over the competitor and in some cases the difference is even greater. This means that a customer processing 1 mn broilers a week requires 35,000 less parent stock to produce the same number of broilers. This also means that less breeder feed is required. If we check the numbers, it would mean that 2,000 tons less breeder feed equates to a saving of approximately US$900,000 on feed alone.
Faster growth rate, better livability and carcass yield deliver the most meat per kg at the lowest cost of production. Based on TMEA field results, the Ross 308 broiler performance shows a minimum of:
1. 1% better FCR equates to a savings of US$415,000
2. 1% better liveability equates to a savings of US$482,000
3. 0.2% better eviscerated yield equates to an additional profit of US$200,000.
Moreover, in the last 5 years, the Ross 308 genetics have delivered:
1. 2.5-3 chicks improvement
2. 0.2% improvement in white meat yield
3. 0.25% improvement in liveability
4. 2.5-3 point FCR improvement
5. 0.5g improvement in ADG
"We have a very talented multi-cultural customer support team who live and work in the region, and also speak the local language. We also have the support of International Specialists and the Aviagen R&D department so our customers can have confidence in the Ross brand," explained Tanyildizi.
Ross provides the best literature portfolio which includes parent stock and broiler management handbooks, performance objectives and nutrition specifications, which are all available on the Aviagen website. Aviagen also has a global flock management app for Ross customers. The app offers quick and easy access to PS and broiler data, along with useful reference and monitoring tools, such as an EPEF calculator and a scoring tool. "In addition to this, we also have a podcast series 'The Eggspert View', which provides information on our key technical topics and key information from around the region," Tanyildizi added.