Unitrans Supply Chain Solutions has broadened its spectrum in supplying specialised transportation and logistics services to the animal feed industry, by launching a new ad hoc animal feed distribution service, available at short notice and competitive rates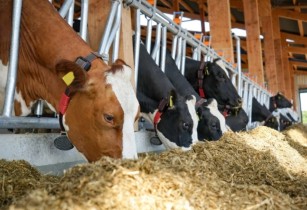 The AFMA Transport Protocol describes how raw materials and ingredients for the feed industry should be transported. (Image source: Adobe Stock)
This follows its accreditation in August this year with the Animal Feed Manufacturers Association (AFMA). One of only 12 service providers in the country to be accredited by AFMA, Unitrans achieved a 100% audit score meeting AFMA protocol requirements. The AFMA Transport Protocol describes how raw materials and ingredients for use in the feed industry should be transported and now extends to include bulk feed transportation from mill to farm.
Carl Malherbe, Executive of Unitrans' Consumer Division said this accreditation gives assurance to the industry that it is meeting the stringent requirements to move animal feed safely.
Malherbe said, with its AFMA accreditation in hand, Unitrans Feed Services is well-placed to service the market utilising world-class technology and years of industry expertise to deliver bulk animal feed. This ad hoc animal feed distribution service further strengthens Unitrans' position as a leading supply chain solutions provider in this market.
According to Malherbe, AFMA accreditation was an important step for Unitrans. The AFMA protocol is an additional risk management tool that provides clear guidelines and cleaning regimes for various feed distribution scenarios, improving the safety in transporting animal feeds.
"The challenge for the feed industry is not only in increasing capacity, yields and production, but also protecting product safety and quality during transportation. Traded globally, animal feed for livestock and poultry plays an important role in the food supply chain, making the transport thereof critical," Malherbe added.
He said it is vital to communicate, report and provide feedback on the location of distribution equipment, ensure detailed biosecurity processes and procedures are in place, as well as ensure regular, deep cleaning and sanitising of all equipment, personal protective equipment and staff "The goal of this protocol is to prevent practices during transportation that create food safety risks," he added.
There have long been concerns about the need for regulations to ensure that animal feed is being transported in a safe manner and to prohibit illness outbreaks resulting from animal food contaminated during transportation.
The Unitrans executive explained that transport and supply chain partners have a responsibility to manage and limit the spread of disease such as avian influenza that broke out earlier in 2021. These protocols and systems warrant that there is no cross-over from designated operating sites and delivery vehicles.
"There is a lot of dependence on the domestic agriculture sector in many areas of South Africa, which in turn relies on established transport services. Often located in rural areas with otherwise bleak prospects for a means of income, transportation in the sector paves the way for many job opportunities. Drivers, vehicle assistants, vehicle hygiene, cleaning, and refrigeration are examples of the support services that the transport industry offers the agricultural sector. Spare parts, fuel and infrastructure services also need to be considered," explains Malherbe.
In the poultry sector alone, Unitrans is responsible for the transportation of 1,35 million tonnes of feed per year. It also moves 300 million eggs, 250 million day-old chicks, 190 million broilers and 280,000 tonnes of chicken meat annually.