Liquid Telecom Kenya has installed fibre optic network worth US$4.5mn to connect 25 Kenya Agricultural and Livestock Research Organisation (KALRO) centres with Internet to help aid its agricultural research purposes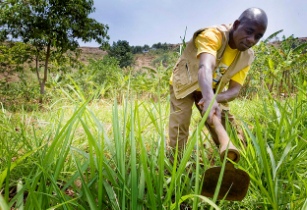 KALRO co-ordinates and regulates research in crops, livestock, marine and fisheries, genetic resources and biotechnology in Kenya. (Image source: World Bank Photo/Flickr)
Liquid Telecom Kenya created a Virtual Private Routed Network (VPRN) for KALRO centres in Nairobi, Mombasa, Kisumu and Nanyuki to deliver the research institutes with 30MB Internet network across all of its centres, stated the company in a statement.
Paul Statham, CEO at Liquid Telecom Kenya, said, "Agricultural research is an integral aspect in ensuring food security. There is a wealth of information at KALRO and it needs to be leveraged by getting it to as many farmers as possible, in the easiest and cheapest way."
A VPRN is a network that uses a public telecommunication infrastructure, such as the Internet, to provide remote offices or individual users with secure access to their organisation's network.
Perez Ochieng - Rana, head of service delivery at Liquid Telecom Kenya, said, "Some of the sites are very remote and many of our users did not have experience beyond basic PC knowledge. After connecting the router, we had to train them on how to access the files from headquarters and basic troubleshooting."
Boniface Akuku, assistant director of information management and communication technology at KALRO, said that the country's future depends on modernising farming techniques through research and innovation.
"Technology Information Units (TIUs) have now been also installed in Embu and Thika, which will allow farmers to log in and get information about agriculture and KALRO innovations," added Akuku.