The Eastern Africa Grain Council (EAGC) has launched G-Soko, an online trading platform for farmers to sell grains through a structured mechanism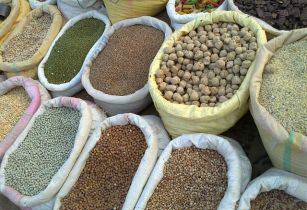 The online trading platform will benefit smallholder farmers in the region. (Image source: Thagadooran/Wikimedia Commons)
The trading platform links smallholder farmers to grain buyers and has been developed by EAGC in partnership with FoodTrade Eastern and Southern Africa and Kenya-based IT firm Virtual City.
According to a statement from EAGC, this is part of a five-year trade enhancement and promotion programme that aims to encourage trading in regional staple food markets. At present, the region is seeing an exponential growth in imports of staple food. A well-coordinated regional market is required to linking surplus production of food in rural areas with urban zones that have high consumption and deficit in supplies.
"We wanted to address this deficiency but also do it in a way that is inclusive and effective. This is why we developed G-Soko; a market transaction platform that will enhance food trade across borders, and contribute towards making trading more transparent," said Gerald Masila, executive director at EAGC.
Through G-Soko, farmers are able to aggregate their produce through a certified warehouse and also access financial services using their grains as collateral. The platform performs a structured trade function that integrates the entire grain trade from farm to market. Using the platform, grain farmers in the region will be able to trade their grain free, competitively and transparently.
According to John Waibochi, managing director of Virtual City, the platform addresses the challenge of funds inadequacy by devising affordable financing modalities. It creates synergies from the small scale farmers to the bulk buyers based on tested market structures.
"Its grain bulking feature allows farmers to consolidate and sell their grains at aggregation centres linked with certified warehouses. More importantly, G-Soko will increase the utilisation of East African standards for grain commodities and products because quality assurance is key," said Waibochi.
The East Africa Community has also put its weight behind the G-Soko platform, reinstating its commitment to develop sustainable structures for grain trade.