Pöttinger has appointed Manfred Holler as the new head of sales for overseas, CIS and southern Europe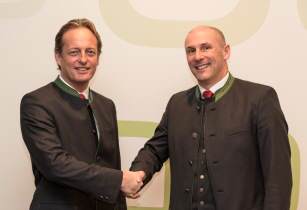 Manfred Holler and Gregor Dietachmayr at the Poettinger headquarters. (Image source: Poettinger)
Holler has succeeded Gregor Dietachmayr, vice-president for sales and marketing, who was standing in on an interim basis.
The new sales head will also be responsible for three export markets - Poland, Australia and USA, which have seen above-average expansion, stated the company.
"Together with my motivated and experienced team, my task is to see that Pöttinger continues on course for success. The main focus will be on working as part of a team to get the best results," said Höller.
The 45-year old sales executive has worked as a product manager, key account manager and sales manager. He is trained in agricultural engineering, making him qualified to understand the needs of farmers.