The Technical Centre for Agriculture and Rural Cooperation (CTA) has launched a US$4.96mn project in Uganda to benefit more than 350,000 smallholder farmers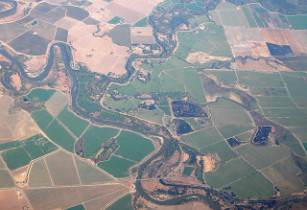 Satellite data will provide farmers with timely and accurate information on crop management. (Image source: Doc Searls/Flickr)
The multi-year project will use satellite data to improve production and marketing of the value chains of maize, soya beans and sesame. This is in collaboration with six other partners, with support from the Dutch Ministry of Foreign Affairs and will run till August 2018.
Designed as a demand-driven, market-led, user-owned ICT4Ag-enabled information service, the programme aims to strengthen information and communication technologies (ICT) and knowledge management capacities of grass root farmers by providing satellite-based timely and accurate information on crop management in all parts of Uganda except the south.
"We are targeting over four million individual farmers organized in 500 cooperatives in four regions with a unique service that we believe will lead to improved user efficiency of inputs, including water, fertiliser, seeds and pesticides. We believe there will be long-term impact through decreased dependence on social assistance and improved sustainability in food production," said Benjamin Kwasi Addom, programme coordinator at CTA.
Other partners for the project include Alliance for a Green Revolution in Africa, East African Farmers Federation, EARS Earth Environment Monitoring, the eLeaf Competence Centre and Mercy Corps Uganda.
Carol Kakooza, programme director at Mercy Corps, said, "We have a target of improving self-reliance of up to 800,000 farmers." This would be achieved by supporting entrepreneurship and youth, promoting enabling environments and uptake among public and private practitioners, farmers and NGOs in Uganda, she said.