Welland Power manufactures diesel generators in the UK with Baudouin, Perkins and Cummins Engines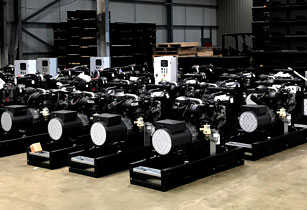 This drive for cost competitions has seen the factory expand into its current site in Spalding in the UK and buy additional equipment such as CNC machinery and additional heavy handling equipment to make the processes faster. (Image source: Welland Power)
An ever-growing UK diesel generator business has stuck a remarkable third Export Track award in the Sunday Times.
The list – which gives them the spotlight of one of Britain's fastest-growing private export businesses – is hard enough to become part of one. Selling a range of spare parts like AVRs the business has gone from strengths to strengths. There are only a few businesses that can win such a high honour three years running – the business now even has its own iOS App!
Given the success of Welland Power over the last few years its hardly surprising. Since being taken over by the third generation of the Farrow Family, Charlie Farrow the current managing director has transformed the business, introducing a range of modern processes and equipment to reduce the labour cost – something that is expensive in UK markets to make Welland Power more cost-competitive than many of its competitors overseas with their range of Cummins powered diesel generators.
This drive for cost competitions has seen the factory expand into its current site in Spalding in the UK and buy additional equipment such as CNC machinery and additional heavy handling equipment to make the processes faster. Equally important is an investment in its employees to increase quality, improve first-time test pass rates and structure the business to handle every eventuality.
John Farrow, former managing director of the family-owned firm commented "It's great to see the success that has come after passing the business onto my Son Charlie Farrow. The hard work and commitment to the business he puts in, following my years of dedication have been key in achieving this award and making the business the modern manufacturing business it is today."
Welland Power has a sister company Regency, that undertakes UK generator projects.
For more information, please visit Welland Power