Wefarm, farmer-to-farmer digital network, has announced a series of executive appointments to accelerate its growth amidst securing US$13mn Series A funding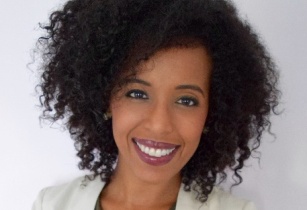 Martha Haile has been appointed as the vice-president of Africa to head up the regional offices in Uganda, Kenya and Tanzania. (Image source: Wefarm)
Amongst the new appointments, is a former LinkedIn and Deliveroo Director Alex Sonnenberg as the new VP of Growth and former Hello Tractor COO Martha Haile joining as the VP of Africa.
To date, Wefarm has built a community of 1.9mn farmers across Uganda, Kenya and Tanzania and has generated US$1mn in sales since it launched its marketplace eight months ago. The executive appointments will cover the two key focus areas for Wefarm's projected expansion; growing the newly launched marketplace across its core markets and increasing its international community of farmers to become a complete ecosystem for smallholder farmers around the world.
Sonnenberg's experience spans across numerous high-profile tech businesses such as Tuenti, LinkedIn, Deliveroo and O2, where he was responsible for driving relevant growth and engagement. Alex has been brought in to lead Wefarm's Growth team, a role that's becoming increasingly popular in hyper-growth companies, which helps to advance its marketing and communication efforts through close collaboration with the product and specialist teams.
Another piece in Wefarm's global domination puzzle is the appointment of Agtech leader Martha Haile as the VP of Africa, to head up the regional offices in Uganda, Kenya and Tanzania, in order to build and develop the teams to reach more farmers, partners, and retailers. Haile brings a deep knowledge of the markets, and experience of building a strategic partnership from her time at Hello Tractor, Booz Allen, and the National Democratic Institute.
Haile commented, "Leveraging technology to improve and increase agricultural output is critically needed across Africa. I'm excited to continue working in this field with an innovative and mission-driven company like Wefarm, which is at the forefront of providing farmers with much-needed information, services, and products."
Kenny Ewan, CEO at Wefarm, said, "As we continue to grow our presence in Africa, and expand our recently launched marketplace, we're thrilled to welcome Alex and Martha to the team. Ultimately if we can inspire 100mn farmers to work together on one platform, we can fundamentally shift global agriculture and trade in their favour. Our new hires alongside our new funding will take us even closer to bringing this vision into fruition and help us become the network of trust for farmers, in what is ultimately the biggest industry in the world."