The World Bank has extended a US$350mn loan for the development of the farming sector in Ethiopia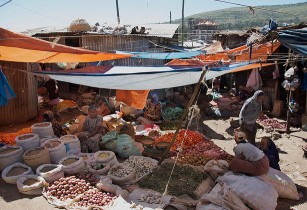 The Ethiopian farming sector suffers from various problems, including poor access to markets. (Image source: A.Davey/Flickr)
The agreement, which was signed late last week by Ethiopian economic development minister Ahmed Shide and the World Bank's Ethiopia director Guang Z. Chenon, will see additional funds channelled to various projects, following the successful first phase of the country's Growth and Transformation Plan.
Ahmed said that the funds will be used to increase farming productivity, invest in technology and research projects, develop and expand irrigation systems, and improve access to seeds and markets for farmers.
The collective project will benefit 1.6mn farmers across 157 'woreda' (districts) in Tigray, Benishangul-Gumuz, Amhara, Oromia, SNNP, Gambella and Harari states, as well as the Dire Dawa city administration, the minister said, adding that priority will be given to areas with the highest potential for productivity.
Agriculture is vitally important to the Ethiopian economy, with around 80 per cent of the population dependent on the sector.
However, farming in the East African nation is blighted by poor infrastructure, drought, a lack of training and equipment and problems associated with market access.