The UN's World Food Programme (WFP) has piloted a project in three schools in the Kenyan capital, Nairobi, providing 11,000 pounds or 5.5 tonnes of green beans, peas and broccoli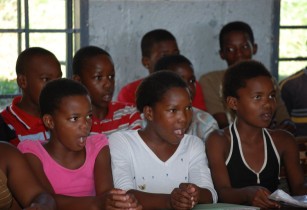 The project has helped to provide lunch 2,200 children over 75 school days. (Image source: The Open University/Flickr)
These vegetables are typically dumped as they fail to meet aesthetic requirements for export. These have been tuned into lunch for 2,200 children over 75 school days
Each day, farms in Kenya reject up to 83 tonnes of perfectly nutritious vegetables simply because they are considered too ugly and off-putting for consumers, especially in the developed world, to buy.
"These are vegetables that are either oddly shaped, longer or shorter than the desired size for packaging, or simply blemished, but perfectly nutritious and fit for consumption," said Dina Aburmishan, a WFP nutritionist in Kenya.
In January of 2017, the UN World Food Programme launched a pilot project to change the destination of these ugly vegetables from landfill to lunch, by diverting them into the country's school meals program at three schools on the outskirts of Nairobi.