The independent Agricultural Industry Electronics Foundation (AEF) has certified iQblue connect for TIM following comprehensive conformity tests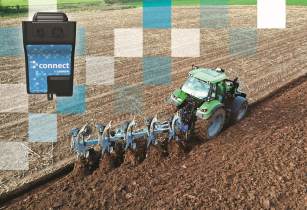 This flexible retrofitting solution allows existing tillage implements to be automated. (Image source: LEMKEN)
LEMKEN is, therefore, the first manufacturer to be awarded this certification for implement control.
The smart iQblue connect retrofitting kit, which was already awarded a silver medal at Agritechnica 2019, offers the unique opportunity to use the benefits of Tractor Implement Management (TIM) control for smart tillage.
Combined with the tractor's ISOBUS interface, iQblue connect allows data to be exchanged between the tractor and implement. As a result, the implement can automatically control certain tractor functions, such as the ground speed or spool valves.
This flexible retrofitting solution allows existing tillage implements to be automated. Farmers merely need a single iQblue connect module, which can be used with a range of implements. The module is connected to the tractor via its ISOBUS interface. It also features GPS and a mobile data connection for communication, such as a farm management system. The system automatically adapts to the implement it is connected to and, therefore, substantially reduces the user's workload.
For ploughs, LEMKEN offers GPS-based working width control as a first step. Here, iQblue connect transmits implement data on the plough's GPS position and current working width to the TIM to enable the hydraulic control unit on the tractor to automatically control the cylinder for the plough's working width. This ensures that the plough always produces a precise and straight furrow. It also allows operators to plough towards a target furrow, vastly increasing the efficiency when ploughing wedge-shaped fields.
In semi-mounted cultivators, the working depth can be detected by a sensor. In this case, iQblue connect collects the area-specific target working depth from digital maps. The TIM adjusts the working depth of the tine section and levelling tools to the changing soil conditions in the field via the tractor's hydraulic system.
An important prerequisite for using iQblue connect is that the tractor has TIM functionality with AEF certification. AEF is a neutral multi-vendor organisation that promotes the increased use and standardisation of electronics in agricultural technology. Its members include all leading agricultural technology manufacturers.
iQblue connect is compatible with implements by other manufacturers and will be available from October 2021.