AGCO Corporation, a specialist in the design, manufacture and distribution of agricultural machinery and precision ag technology, has introduced the Massey Ferguson RB 4160P Protec combo baler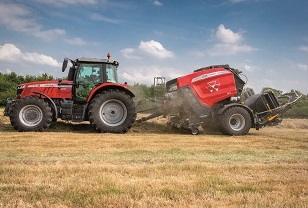 Versatile baler-wrapper combo offers unparalleled flexibility at harvest, allowing growers to maximise the nutritive value of their forages. (Image source: AGCO)
Now, producers can focus on harvesting forage at optimum condition, preserving it at peak nutritive value for livestock.
With the Protec, AGCO continues its legacy of offering innovative hay and forage solutions. The unit combines all the features found on the RB Series silage balers with an integrated bale-wrapping unit, allowing producers to harvest and ensile high-moisture forages in one simple process.
"In climates with high humidity and lots of rain, putting up hay traditionally can be a challenge, so many forage growers are turning to baled silage," said Dane Mosel, marketing product specialist for hay and forage at AGCO. "Not only do they avoid the drydown issues, but they can harvest their forage at the ideal growth stage for maximum nutritional value."
Whether harvesting forage for a dairy or beef operation, the versatile RB 4160 Protec can handle any crop a grower wishes to bale. In addition to plastic-wrapped baleage, the machine can be used to mesh wrap forage before bagging as silage, as well as to bale dry hay, straw and even course material such as corn stover.
Individually wrapped bales offer feed quality and transport advantages
Capturing and preserving forage's nutritional value is one benefit of silage. Mosel said that by wrapping a silage bale as soon as it leaves the bale chamber, more protein and nutrients are retained for animals to consume.
"It takes less than a minute from the time forage enters the Protec's pickup to the time the wrapped bale is released," he added. "That preserves the nutritional quality the grower worked so hard to achieve in that crop. Feeding such premium-quality forage may lower ration costs because you don't need to feed as much or need as many supplements."
Commercial-strength engineering ensures reliability
Built with durability and long life in mind, the Protec baler has a robust chassis and rides on high-flotation tires selected to handle the machine's 14,000-pound weight. The baler components — including the pickup, bale chamber and net-wrap system — are identical to the RB 4160V silage baler, which debuted at the 2018 Farm Progress Show and produces four-by-five-foot bales.
"We have standard RBs in the field with 50,000 to 60,000 bale counts and still going strong, so these balers are built to handle whatever you can throw at them," Mosel stated.
With a tine-to-tine width of 73 inches, the cam-less pickup ensures that even heavy, wet forages feed smoothly into the bale chamber. Because there is no cam track, there are fewer moving parts, making the baler both quieter and more reliable with less maintenance and fewer adjustments.
The Protec baler features two banks of Xtracut hydraulically operated knives. Operators can select zero, eight, nine or 17 knives to attain forage cuts as small as 2.65 inches in length, allowing for improved forage digestibility. Once the crop is inside the bale chamber, the Constant Pressure System (CPS) ensures density stays consistent through the entire baling process.
"The denser the bale, the less oxygen when it's wrapped, which improves the ensiling process," Mosel said, adding that the Protec's variable chamber forms bales that are 4 feet wide and 35.5 to 63 inches in diameter.
Wrapping is easy with Protec
With its unique design, the combination baler's wrapping unit is rugged enough to easily wrap silage bales that could weigh nearly 3,000 pounds. Yet it's compact enough for greater manoeuvrability in the field and ease when transporting and storing.
In addition to two rolls of net wrap, the RB 4160P can carry 14 rolls of 750mm or 500mm film on board. Three film pre-stretching options are available, depending on manufacturer recommendations.
"With that amount of mesh and film, the unit can wrap 224 bales in eight layers of plastic or up to 280 bales in six layers, so the Protec can run all day," said Mosel, adding that the Easy Load System (ELS) makes mesh roll replacement a cinch. "Sensors automatically detect if the film breaks or if a roll runs out, and the baler compensates to ensure that bales are always completely wrapped."
Innovative features maximise baling opportunities
The entire RB Series is engineered with productivity in mind. An operator can track bale formation, control cutter engagement and select knife banks all from the intuitive E-link Pro touch-screen monitor inside the tractor cab. The only reason to leave the seat would be to replenish net wrap and film.
Even a plugged pickup can be remedied from the cab thanks to the HydroFlex Control system with its hydraulically controlled floating floor.
"Should the baler get plugged, the operator can disengage the knives and lower the rear of the feed table floor from the in-cab monitor, allowing the crop to enter the bale chamber," Mosel explained. "Then, the machine can be re-engaged and baling can continue. There's no jumping out of the cab. No need to get hot, sweaty and dirty crawling under the baler."
The baler comes standard with a rear-mounted camera, providing the operator with a view of the wrapping table and the ability to monitor bale transfer, wrapping and release. Maintenance is simple. The baler features easy-to-access grease banks and an automatic chain lube system.
"The RB 4160P Protec combo baler is an ideal tool for producers who want to maximise the return on investment from their forages and provide their livestock with the absolute best feed. It's an all-in-one solution for forage," Mosel concluded.