AGCO Corporation, a manufacturer and distributor of agricultural equipment, has introduced the Massey Ferguson 1800M and 2800M Series, with five models ranging from 35-60 engine horsepower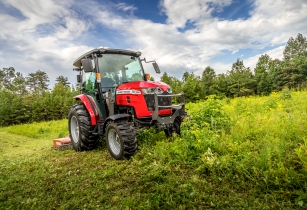 AGCO NA MF 2860M cab mowing weeds. (Image source: AGCO)
The 1800M and 2800M Series replace the 1700M Series compact tractors and are offered in both factory-installed cab and open-station ROPS models.
Featuring 1.83-litre, three-cylinder Iseki diesel engines, the 1800M Series tractors are available in two models with 36.2 or 39.4 engine horsepower. The 2800M Series offers three 2.43-litre, four-cylinder Iseki-powered models, from 48.8 to 60.3 engine horsepower.
These engines are turbocharged for responsive power, liquid-cooled for increased durability and standard-equipped with glow plugs for fast, reliable starting in frigid temperatures. Clean-burning Iseki engines meet Tier IV emissions standards and can be found in specialised equipment used worldwide in a broad range of demanding ag, turf and commercial applications.
The M Series compact tractors also come with an updated hood, headlights and new decals, reflecting the look of larger Massey Ferguson utility and row-crop tractors. It is ideal for jobs such as mowing or rotary tilling, where consistent working speeds must be maintained.
An optional three-range hydrostatic transmission is also available. Dual foot-pedal controls make for quick and easy forward/reverse direction changes. Cruise control allows operators to set and maintain their preferred working or transport speed.
The tractors are available in both cab and open-station configurations. The standard cab models feature dual lockable, entry/exit doors, tilt steering and heating/air conditioning. The tractors offer up to 12.6 gpm hydraulic output, providing more responsive power at low engine speeds, allowing operators to throttle-back to reduce noise, while maintaining full steering and implement function.
The 1835M, 1840M and 2850M models offer a Cat. I rear three-point hitch, while the 2855M and 2860M models are equipped with Cat. I and II three-point hitch with 3,086-lb. lift capacity, providing compatibility with a wider range of attachments. M Series compact tractors can be equipped with dozens of implements and attachments, including the new Massey Ferguson FL Series loaders, CB backhoes and front-mounted snow blowers.
Jeffrey Ratliff, AGCO tactical marketing manager, said, "The M Series offers new developments and enhancements which meet the expanding needs of the compact tractor market. Whether you're a landscape contractor, municipality, hobby farmer with a few heads of cattle or a property owner with big acres to work and even bigger plans, the new M Series offers a powerful, proven dependable choice."