ArmaTrac, the export brand of Erkunt Tractor Industries Inc, has licensed GIAD, one of Africa's largest industrial enterprises, to produce ArmaTrac tractors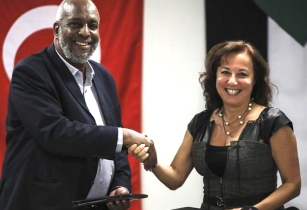 Zeynep Erkunt Armağan, chairperson of ArmaTrac, and Ismail Altayeb Abdalla, CEO of GIAD Group, during Sudan agreement. (Image source: ArmaTrac)
With this agreement, Erkunt became the first manufacturer in Turkey to license abroad.
ArmaTrac, the export brand of Erkunt Tractor Industries Inc which was founded in 2003 in Turkey that has the world's fifth largest agricultural economy, attained the third place in the Turkish market among 31 companies in six years.
ArmaTrac tractors are being produced with Perkins (UK) and Deutz (Germany) engines and transmissions from ZF (Germany) and Carraro (Italy).
Designed, engineered and built with simplicity and efficiency in mind, the entire range is focused on providing easy solutions to the farmers. Each tractor is tested both in simulations and in the field with painstaking attention to detail.
"After these examinations, products are allowed to leave the factory, confident that no matter what you put your tractor through, day after day, year after year, they will perform to the high standards you expect," according to ArmaTrac.
Zeynep Erkunt Armagan, chairperson of Erkunt Tractor, stated the importance of this project in ArmaTrac's journey to become a global brand and explains the details of this new agreement in Sudan.
"Sudan, which is one of the fastest developing countries of the African continent, has a great potential for the agricultural sector. We consider Sudan as a very accurate market since 2009 and keep it as our priority among our target markets. GIAD is one of Sudan's most professionally working and important enterprises, which we have worked with for years."
"After this production agreement, I believe that we will make our relationship, which continues as a distributorship more creative and wealthier. With the production of our ArmaTrac tractors in Sudan, we are going to take important steps not only in Sudanese market; but also in the market of 19 countries in the Common Market for Eastern and Southern Africa (COMESA)."
"What makes us different is the tractors that we design according to the needs of the farmers and the land of the country we export. I hope that this agreement we signed for Africa is going to contribute to new license agreements in other countries," ARMAĞAN concluded.