Case IH, through its local distributor Northmec, recently delivered the first units of a fleet of 138 tractors and four sprayers to South African clients Pieter Van Zyl, PG Van Zyl and Dirk Fourie
The customers jointly farm 18,000 ha with maize in Western Transvaal, in the Northwest Province of South Africa. The new machines will renew and expand Messrs Van Zyl's and Fourie's fleet of Case IH equipment, which also includes combine harvesters.
"Case IH is the brand of choice for large-scale agricultural operations such as this," said Diego H. de la Calle, CNH Business Director Africa. "We have the high productivity equipment they need and dedicated teams to support them and help them make the most efficient use of their resources to maximise productivity and achieve higher outputs."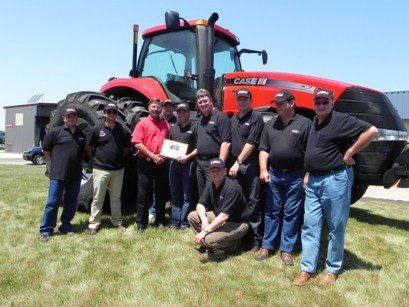 The fleet will include 60 units of JX95 four-wheel-drive tractors. Running 98hp (72kW) engines, these tough, easy to use machines stand out for their extreme versatility and high fuel efficiency. Also in the fleet are 50 units of the 125hp (93kW) Maxxum 125 tractors, which can handle big workloads and a wide variety tasks, from livestock operations, to row crop applications and roadside mowing. Twenty-eight units of the latest model recently introduced in the South African market, the Magnum 340, complete the tractor fleet. Built for power, durability, comfort and productivity, this 340hp (250 kW) tractor is the machine of choice for large-scale farmers such as Messrs Van Zyl and Fourie. 
Case IH will also supply four Patriot® 3330 sprayers. These machines, featuring 250hp (186 kW) engines and a tank capacity of 3,785 litres, are designed to ensure even weight distribution, which results in less soil compaction and fewer ruts in the field, as well as the ability to get into wetter fields sooner. All the machines in the fleet add up to extreme versatility and productivity. The fleet will be supported by Northmec's service organisation, which already takes care of the customers' combine harvesters.