Case IH has announced its entry into the Nigerian market and has unveiled the range of tractors that will be sold and serviced by its exclusive distributor and after-sales service supplier, Dizengoff Nigeria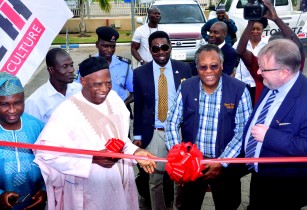 The new partnerships aims to drive mechanisation in African farming. (Image source: Case IH)
The company is introducing a wide range of tractors to Nigeria, with 35 to 213 horsepower models capable of meeting the mechanization requirements of every size of farm.
Initiating the exclusive partnership agreement signed earlier this year between Case IH and Dizengoff Nigeria, an official launch ceremony was held at the NAF Conference Centre in Abuja on 15 June. The guests included Senator Dr Adamu Abdullahi, chairman of the Senate Committee on Agriculture, representatives of farmers' associations and commercial farmers from all over the country.
Other notable attendees included Marco Raimondo, Case IH business director for Africa and the Middle East; Andrew Baker, CEO of Dizengoff Nigeria's parent company Balton CP Group UK; Antti Ritvonen, country manager of Dizengoff Nigeria; Promise Amahah, president of the Young Farmers' Network; and Emmanuel Ijewere, coordinator with Nigeria Agribusiness Group (NABG).
At the event, Raimondo commented, "At Case IH we are constantly renewing and expanding our product offering to meet the growing needs of farmers in Nigeria and indeed the world-over. We have exactly the right kinds of equipment to meet farmers' needs, to help them raise their efficiency and productivity, and are very excited about our new collaboration with Dizengoff Nigeria."
Case IH tractor models being made available in Nigeria include the 35-75hp JXT range of utility tractors for the smaller scale farmer who needs a totally reliable tractor for a variety of root crop and harvesting applications; 80-88hp and 110-140hp models from the Farmall Series of versatile front loader tractors with compact dimensions and a high power-to-weight ratio, designed to take on general duties on arable farms and tough tasks on livestock units; 112-141hp options from the Maxxum Series, which have a hard-earned reputation as the best mid-range machines on the market; and 142-213hp Puma tractors.
"As a company we are committed to ensuring that Nigeria as a nation becomes self-sufficient in food production and, in the near future, becomes a major player in the export of high-quality agricultural produce. Mechanisation plays an important role in addressing the issue of agricultural production as a nation, hence the need to support farmers with the right kind of equipment that can take care of their farm needs at different stages of their development," Ritvonen said, commenting on the partnership.