Celli, Italian leader in design, construction and distribution of professional machines for soil preparation, has presents new multi-purpose solutions for soil cultivation in Africa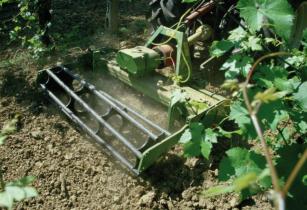 Celli MINIGO vigna. (Image source: Celli)
Celli's machinery helped in cereal and horticultural crops of the Maghreb (Tunisia, Algeria, Morocco). At the same time, they have achieved positive results in recent years on the South African market, a country which is popular for the diversity of its crops (from corn to forage, horticulture and viticulture).
Bedformers effectively treat stony and particularly hard soils, preparing an adequate seedbed to the most varied types of cultivation, even considering the presence of crop residues. Bedformers represent the ideal solutions for crops that require pre-formed seedbeds; they are also available on request in the multi-bed versions, capable of creating different beds of various widths, thanks to the multiple adjustments of the shape of the bedformers.
Among the various models in the range, the fixed stone buriers – bedformers ARES and LOTHAR stand out. The first is an extremely innovative and versatile solution that can be combined with a seeder thus obtaining a double functionality of cultivation. This combined solution boasts a maximum power of 110 HP (81 KW) and can work the soil up to a depth of 22 cm.; it is thus able to prepare an adequate seedbed even in the presence of crop residues, guaranteeing drainage and permeability to the soil.
The LOTHAR stone burrier, on the other side, can refine the hardest and stony soils up to 25 cm. depth. Having a maximum power of 190 HP, it is also available in a folding version (LOTHAR P) of 280 HP, in various working widths and also matched with a bedformer (LOTHAR P / BF). The range is then completed with the SUPER LOTHAR / P, which can be connected to high-power tractors (up to 450 HP), ensuring a high versatility of the offer also in terms of performance.
Talking about flexible solutions, MINIGO and GO fixed rotary harrows need a mention. Both can be equipped with an electrically operated mechanical seed drill: a single machine to work the soil in depth, preparing the seedbed and finalising the seeding.
In addition to power harrows, rotary tillers have always been a very important part of the Celli range: a wide and complete program, ranging from smaller machines (such as the "bestsellers" B, DE and E) to more professional products such as ERGON and PIONEER.
In addition to PTO-run soil tillage machines, Celli has also added in recent years a line of subsoilers, useful for carrying out the first tillage operation before proceeding with further steps to refine the soil.