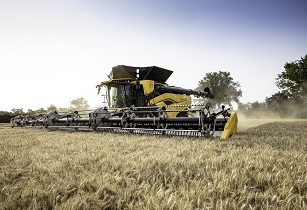 CNH on 12 November, announced that its brands had won the most medals at the Farm Machine 2024 awards which took place at the Agritechnica show in Hanover, Germany
---
Standing first in the Combine Harvesters category, is the New Holland CR11, the brand's latest and most advanced combine harvester that has been developed to provide higher productivity with minimal grain loss, improved residue management, and more automation.
Sweeping in second is the New Holland T7.270 Methane Power CNG tractor, that was awarded in the Upper Class Tractor category. The tractor features an evolution of the existing methane-fueled engine for the T6 line-up to match the higher horsepower and performance of the T7 range. Its production is set to begin in the second half of 2024.
Coming third is the Case IH Farmall 75C Electric, that was named best Utility Tractor at the awards. This model is part of CNH's first electric drive tractor platform where the industry's first fully electric tractor with autonomous features, was introduced.
These three medals join five other awards picked up by the CNH brands at the Agritechnica Innovation Awards, raising the company's total Agtitechnica medal count to eight.
"These continued industry recognitions confirm that our R&D investments and commitment to 'Be the Best' are delivering customer inspired innovations that make farming easier, more efficient, and more sustainable for our customers," said Scott W. Wine, CEO at CNH.
For more information, visit: https://www.cnhindustrial.com