Marel and Curio have together unveiled their new whitefish processing solution, ideal for small processors looking to increase automation in the face of labour shortages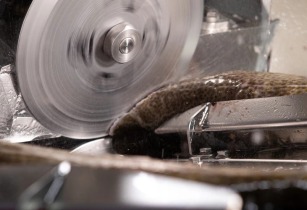 The whitefish processing solution is designed for small processors looking to increase their automation, flexibility and performance. (Image source: Marel)
According to the company, the compact solution offers the equipment and technology needed for deheading, filleting, trimming, grading and packing. The product is designed to help the operator improve efficiency, reduce costs and increase the quality of the final product.
Meeting all requirements
The solution is said to be able to process multiple species of varying sizes and features a compact and flexible design, a capacity for high volume throughput, and full traceability to provide visibility of the whole process from start to finish in real-time.
As part of the line, the Curio Filleting Platform C-2011 is capable of filleting whitefish species ranging in size from as small as 400 g up to 8 kg. The dynamic and adaptable filleting platform offers a high level of flexibility while remaining easy to operate and maintain. The Curio Heading Machine C-3027 offers highly accurate automated deheading that helps maximise yield and minimise the risk of human error.
Curio's solutions combine with Marel's Active Trimming Line, Compact Grader and Packing Station to offer small whitefish processors a compact and scalable solution to fit their current and future requirements.
Real-time insights
Data can feed dashboards and reports to provide insights into the processing, making it easy to make informed decisions to optimise performance during production. It is simple to change species and size, and the processing solution reduces the need for manual handling, plus some equipment like boxes and tubs.
New demo centre
With Marel and Curio's partnership, whitefish processors can access complete and scalable solutions from a single source. The partnership has also announced the opening of a new demo centre at Peterhead, United Kingdom where interested parties can view the curio machines in operation.