A widespread replacement of manual labour with mechanical power can have large socio-economic implications. Lionel Coetzee, head of marketing, AGCO Africa speaks with Tulana Nayak about how the company and MF 2640, specifically, is bringing about that change.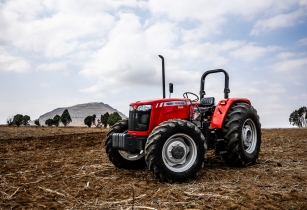 The MF 2640 boasts the power of 60Kw, max torque 300NM. (Image source: AGCO)
How is MF 2640 helping farmers in Africa?
The MF 2640 model has been specifically engineered to be strong and capable of withstanding arduous conditions. It is equipped with more performance features and style than any other low horsepower tractor in its category, which makes it the best fit for Africa's arable land. It truly is a multi-purpose tractor for farmers, handling every task efficiently and comfortably. The MF 2640 is ideally suited for livestock and dairy farmers as well as fruit and vegetable producers.
What are the upcoming models and how are they better or different? Please share if there are any future projects lined up.
The MF 2600 series has a power range (kilowatts) of 48 to 60kw engines and It comes in two models – MF2630 GE and MF 2640.
It comes in two options – 2 wheel-drive and 4 wheel-drive. Both give you the 'Feel right at home in your workspace' experience. It is easy to use, with straightforward controls. Its ergonomic design ensures that transmission, hydraulic and PTO controls fall easily to hand and can be operated with minimum effort. The MF 2640 has an excellent all round visibility allowing the operator to keep an eye on the implement at all times and drive confidently in confined yards and buildings. The spacious operator platform provides a clear, well-laid out dashboard. Easy to read instruments ensure that you always have vital machine data to maximise efficiency and performance at all times. The MF 2640 boasts the power of 60kw and max torque of 300NM. The rotary injection pump for smoother engine performance during sudden load changes and fuel cooler allows optimum fuel combustion and results in improved fuel efficiency. It is also the best value for money and is priced right for the emerging and commercial farmers. It has a lifting capacity of 2,000kg and four cylinder inlet for hydraulic control of rear-lift arms for a variety of implements.
The other model is the MF 2630GE. GE (Ground Effect) tractors are low height models ideal for working under low hanging crops such as vineyards and fruit orchards. The highest point is 1,300mm and these tractors have rounded fenders to allow the crop to flow over them without being damaged.
How did AGCO tackle challenges posed by the pandemic?
At AGCO, it is imperative to fulfilling our purpose of putting the 'Farmer first'. We did our best and continue to do so by prioritising our operations in a manner that makes the greatest and most immediate positive impact on our employees, farmers, industry and environment.
Our office-based staff has also worked very effectively from home. AGCO's leading-edge IT system (implemented long before COVID) worked successfully during these times and proved that it was a forward-thinking investment for the company.
Agriculture is an essential part of the economy, and we needed to keep our farmers happy and operational so that they can continue producing quality food to feed the world.
Obviously, unexpected delays in movement and availability of parts posed a challenge. Despite this, we had put urgent control measures in place – our warehouse in Johannesburg that supplies to most of the African countries up to Nigeria, worked tirelessly with our transporters. They worked efficiently to find solutions that would maintain seamless deliveries, ensuring that farmers and our distribution network were minimally affected.
Please elaborate how AGCO is helping in making precision farming easier for farmers? What are your thoughts on precision farming and its importance?
We have technology like FUSE that assists farmers in the following ways:
●Fuse is the leading global open platform for digital farming products operated by AGCO Corp. Fuse supports AGCO's brands and the aftermarket with a comprehensive and customisable suite of non-proprietary digital solutions, empowering farmers to make their individually best business decisions and thus maximize yields and profitability.
●Smart Farming Synchronised: Fuse ensures that its products are not only compatible with mixed fleets but also across the entire farm operation. We believe in this open approach as we want to enable our customers' future of farming with the best digital products available on the market – if they are developed by Fuse, in cooperation with partners or third party offers. This means Fuse gives farmers freedom and flexibility in their choices of machinery, farm management and agronomy software as well as service providers – to establish their individually perfect digital ecosystem.
The many uses of FUSE smart farming products:
Planting: Elevating field preparation, planting precision and minimising seed and fertiliser input.
Reduce resources and increase yield potential: Software tools and applications that elevate field preparation and planting precision and thus optimise seed input, while at the same time minimise input costs of seeds and fertilisers.
Growing: Protecting and nourishing crops while minimising the amount of wasted resources.
Taking your crop to the top: Software tools and applications that help to protect and nourish growing crops and minimise the amount of plant protection products and fertilisers through optimised input precision.
360 degree all year: For general connectivity and use over the entire crop cycle. Perfectly equipped year in and year out: Universal software tools and applications, mandatory for general connectivity and beneficial over the entire crop cycle.
Why was the MF 2600 chosen in particular to be featured in the show 'Master Mechanic'?
This three-episode reality show is first-of-its-kind (worldwide). We took a calculated risk and proved to be very successful. Choosing the MF 2640 was the natural choice because of the quick assembly time of the tractor and simplicity of its rugged design. We need to bring awareness into the market about our new series and what better way than the MF 2640. More details on the show can be found on our Facebook and Instagram pages.
Visit www.masseyferguson.co.za or e-mail: africasales@agcocorp.com