Earth Rover, a UK agri-robotics company and Agri-EPI Centre member, has developed the LightWeeder to solve key challenges faced by laser-based weeding systems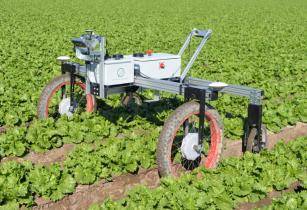 The LightWeeder is an agri-robot that can kill weeds using a unique concentrated light method. (Image source: Adobe Stock)
The LightWeeder is said to be the world's first eye-safe, herbicide-free, carbon-neutral, commercially viable weeding system. The LightWeeding technology uses semiconductor LEDs to solve key technical, safety and commercialisation challenges faced by laser-based weeding systems.

The LightWeeder is part of CLAWS (Concentrated Light Autonomous Weeding and Scouting), an agri-robot that can kill weeds using a unique concentrated light method, and can also scout fields to obtain a complete data map of all crops after planting, showing the crops exact location, size, and any early signs of disease.
The main features of CLAWS are:
Weeding – chemical-free and inherently safer than laser weeding. No till and no crop damage and can be used in any conditions without compacting the soil.
Scouting – In-depth analysis of crops to allow better harvest predictions and increased yields.
The complete system is ultra-lightweight at 300kg, meaning it requires low amounts of energy to run, and is also claimed to be cheaper and more environmentally friendly than many of its competitors. The system currently runs on batteries and in future, solar panels therefore uses no fossil fuels and help farmers meet their net-zero targets.
With increasing types of chemical-resistant weeds, a significant downturn in availability of hand labour plus a shift in society towards more organic options, now more than ever there is a need to change the way we farm. A recent report by Rothamsted Research shows weeds 'pose an unprecedented threat to our food security' and highlights the need to diversify weed control as an urgent priority.
As explained by John Taylor, farm director at Pollybell Organic Farm, "The key element here is that the LightWeeder not only makes chemical-free farming more effective but it also solves the huge issue farmers are facing today in terms of the huge loss in the labour force. Being able to weed fields autonomously means that food production doesn't just grind to a halt."
According to Earth Rover, LighWeeder is energy-efficient and no-till and does not cause damage to drip irrigation or crops. It is also not dependent on soil conditions and does not enable weeds to develop resistance.